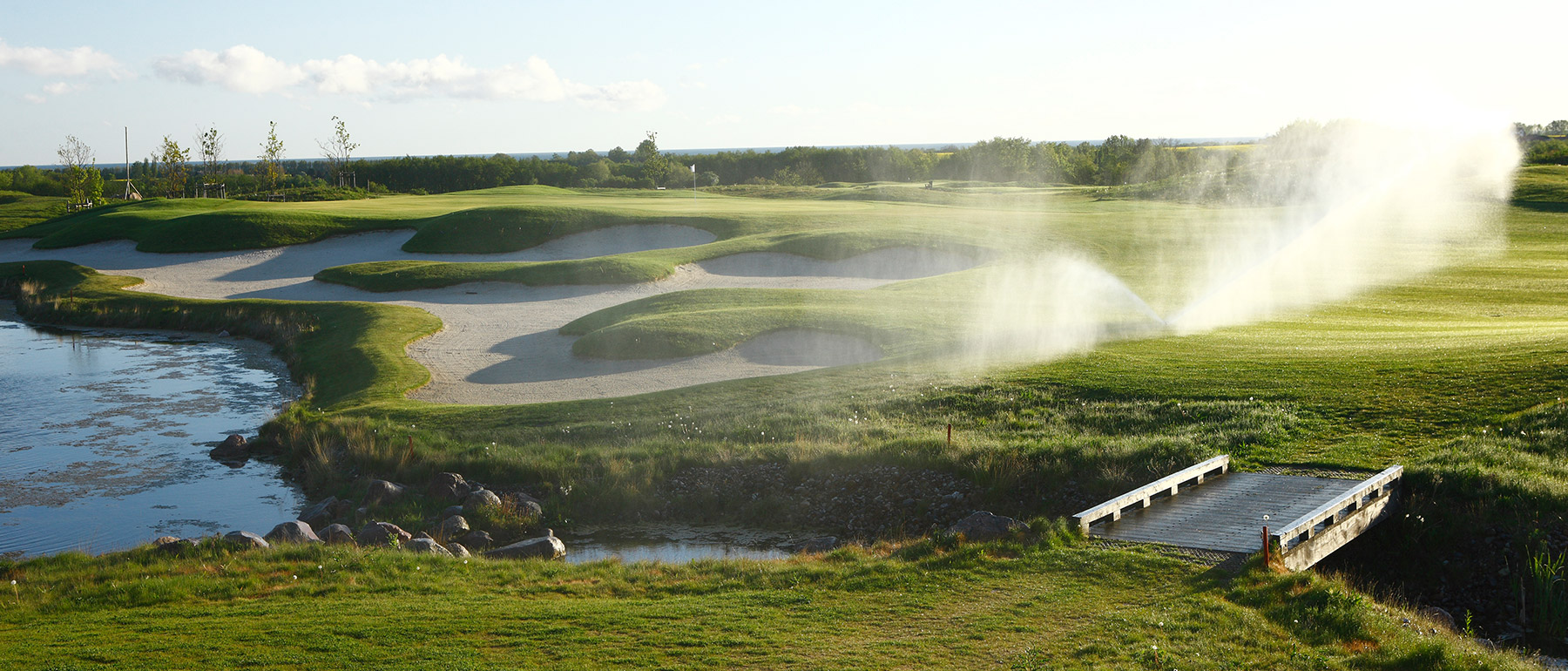 Course Rules
A. Hausordnung
Die Betreiberin (GHW Golf- und Hotelresort Wittenbeck GmbH & Co. KG) hat auf der gesamten Golfanlage das Hausrecht. Nachfolgende Regelungen über die Benutzung der Golfanlage und des Clubhauses mit Golfcafé dienen dem reibungslosen Miteinander von Betreiberin, Club, Clubmitgliedern und Gästen.
B. General
1. The general game, competition and adherence to regulations of the German Golf Association (DGV), as well as the league statute of the DGV and the competition regulations of GV M-V and DGV may be consulted at our venues.

2. Biotopes are designated water obstructions as well as out of bounds areas. Entering and playing in these zones is forbidden for environmental protection purposes.
C. Course Rules
1. "Out of bounds" rule (27-1)
Out of bounds areas are marked by white posts and/or with white lines on the ground. In the case of an additional line planning this priority comes into effect and overrules the posts.

2. Ground under repair (rule 25-1) which cannot be played on.
Ground in repair is marked by blue posts and/or blue chalkings. Line markings take priority over post markings.

Watering edges, which surround trees and the watering edges themselves are also classed as ground under repair, even if they are not marked with blue poles or tapes.

3. Obstructions (rule 24)

Movable obstructions (rule 24-1)
This includes stones in the bunkers and all posts, chains and ropes used for cordoning-off purposes. The same applies to pickets, which indicate distance.

Unmovable obstructions (rule 24-2)
Paths with man-made surfaces (cobbled paths for golf carts and paths between the holes), all bridges within our resort, distance markings in the ground, sprinkler covers and floor drains to the drainage are unmovable obstructions.
4. Eingebetteter Ball (Regel 25-2)
Ist im Gelände ein Ball in sein eigenes Einschlagloch im Boden eingebettet, so darf er straflos aufgenommen, gereinigt und so nahe wie möglich der Stelle, an der er lag, jedoch nicht näher zum Loch, fallen gelassen werden (Es gilt Ziffer 4a in Anhang I Teil B der Golfregeln)

5. Ball auf dem Grün unabsichtlich bewegt
Die Regeln 18-2, 18-3 und 20-1 werden wie folgt abgeändert: Liegt der Ball eines Spielers auf dem Grün, ist es straflos, wenn der Ball oder der Ballmarker unbeabsichtigt durch den Spieler, seinen Partner, seinen Gegner oder einen ihrer Caddies oder ihre Ausrüstung bewegt wird. Der bewegte Ball oder Ballmarker muss, wie in den Regeln 18-2, 18-3 und 20-1 vorgeschrieben, zurückgelegt werden. Diese Platzregel gilt ausschließlich, wenn der Ball des Spielers oder sein Ballmarker auf dem Grün liegt und jede Bewegung unabsichtlich ist. Anmerkung: Wird festgestellt, dass der Ball des Spielers auf dem Grün durch Wind, Wasser oder irgend eine andere natürlichen Ursache, wie zum Beispiel die Schwerkraft, bewegt wurde, muss der Ball vom neuen Ort gespielt werden. Ein Ballmarker wird zurückgelegt, wenn er unter diesen Umständen bewegt wurde."

6. Wasserhindernisse einschl. seitliche Wasserhindernisse (Regel 26)
Ist es nicht sicher, ob ein Ball, der beim Spielen der Löcher 8 und 15 in Richtung auf das Wasserhindernis geschlagen worden ist, darin oder daran verloren ist, so darf der Spieler einen anderen Ball provisorisch nach jeder der anwendbaren Wahlmöglichkeiten von Regel 6-1 spielen. Wird der ursprüngliche Ball außerhalb des Wasserhindernisses gefunden, so muss der Spieler das Spiel mit ihm fortsetzen. Wird der ursprüngliche Ball im Wasserhindernis gefunden, so darf der Spieler entweder den ursprünglichen Ball spielen, wie er liegt oder das Spiel mit dem provisorisch nach Regel 26-1 gespielten Ball fortsetzen. Wird der ursprüngliche Ball nicht innerhalb der 5 Minuten Suchfrist gefunden oder identifiziert, muss der Spieler das Spiel mit dem provisorisch gespielten Ball fortsetzen.
D. Hints
Scheduled times are noted on the scorecards. Distance markings to the start of the green on the fairway are noted on the sprinkler covers.

For interruptions to play a fanfare horn will sound with three short, consecutive acoustic signals. The resumption of play will be marked by one signal.